The Best Location in the City Center
An Eco-Friendly 5-Star Hotel in Santiago
An alluring union of classic elegance and contemporary luxury, Hotel Plaza San Francisco stands at the gateway to downtown Santiago as the only sustainable 5-star hotel in the city center.
With a privileged setting just moments from world-class museums, restaurants and cultural attractions and steps from a metro station, our hotel is a beacon of urban sophistication, impeccable service and award-winning gastronomy. Step inside and be swept into an ambience of English-style intimacy and warmth, where history and modern style are perfectly intertwined to create a truly personalized experience for each guest.
With a deep reverence for the past and a creative eye towards the future, Hotel Plaza San Francisco invites you to discover one of the most unique hotels in Santiago.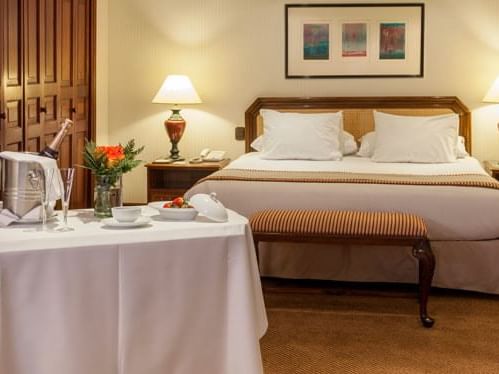 This premium suite brings space, luxury and elegance together to create a true urban oasis. With one oversized double bed, this suite is also appointed with a work desk, a seating area with two overstuffed sofas and an exquisite bathroom.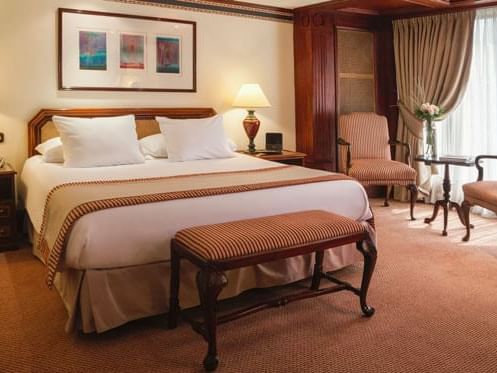 English-style splendor and grace define our Superior King Rooms, which feature an extra-large double bed, warm wood detailing and a lavish marble bathroom.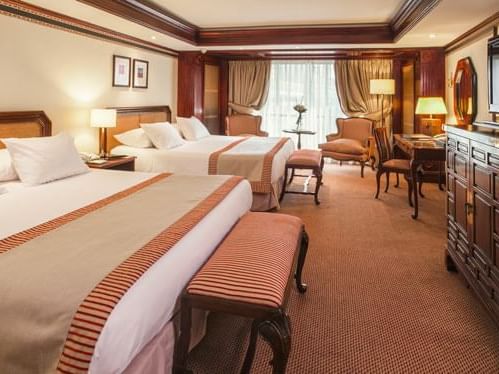 Timeless yet modern, the Superior Twin Room captures the essence of Plaza San Francisco Hotel in every detail with elegant English-style furnishings, unique artwork and an exquisite marble bathroom.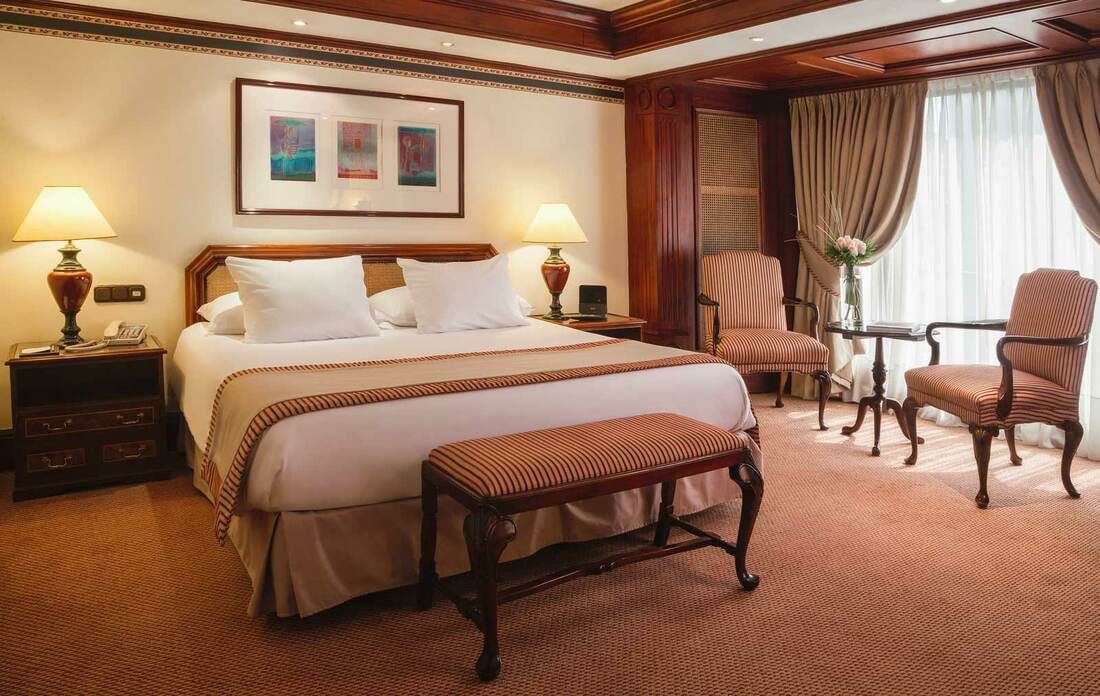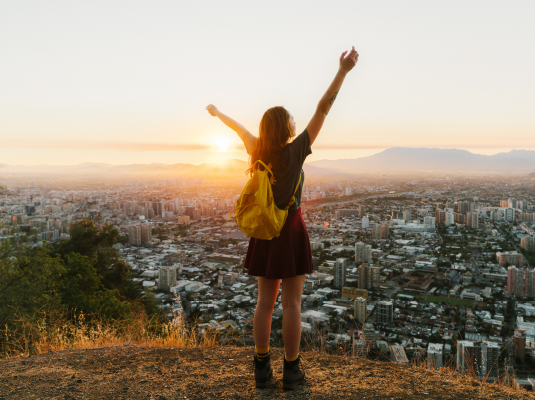 Prepare your next visit to Santiago, book and enjoy a special price so you can stay with us.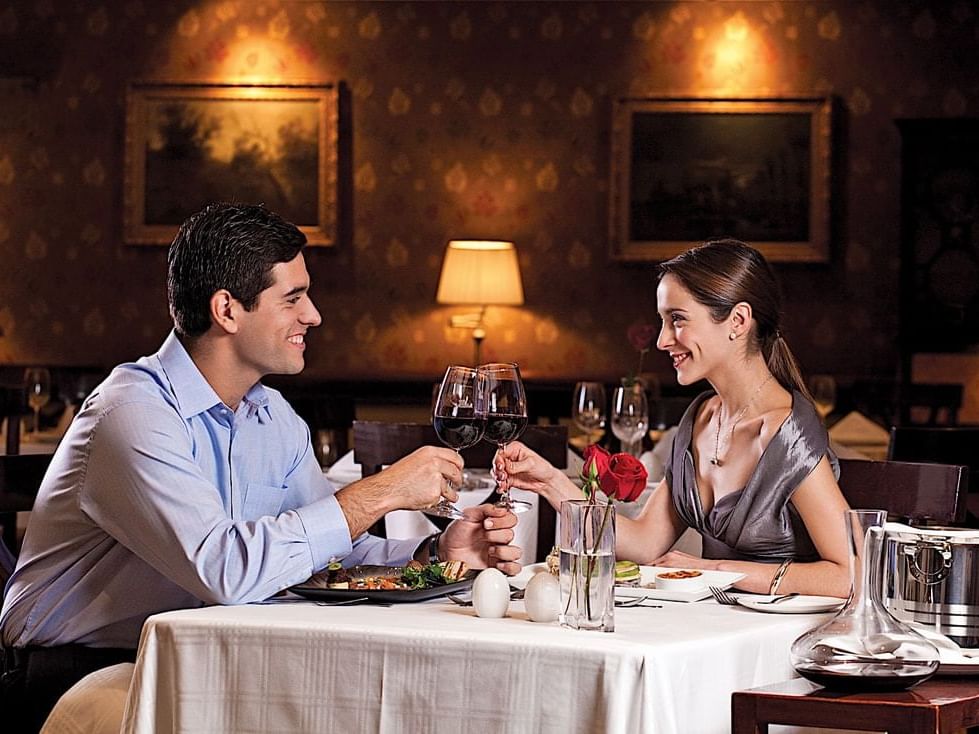 Any time is perfect for a romantic getaway with the best cuisine at our Bristol Restaurant in the heart of Santiago.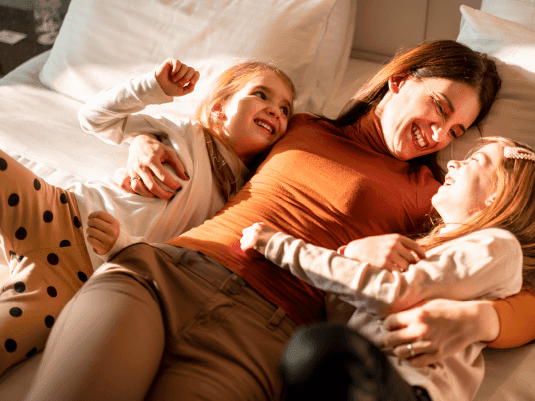 We want you to have the opportunity to relax with your family enjoying an unforgettable experience in Santiago downtown, minutes from the best attractions in the city.
Bristol Restaurant
Savor a dining experience expected of the finest restaurants in Santiago de Chile. Created for lovers of exquisite cuisine and creative flavors, the award-winning menu by Executive Chef Axel Manríquez features enticing appetizers, soups, meat and seafood main courses and opulent desserts.
More About Dining Options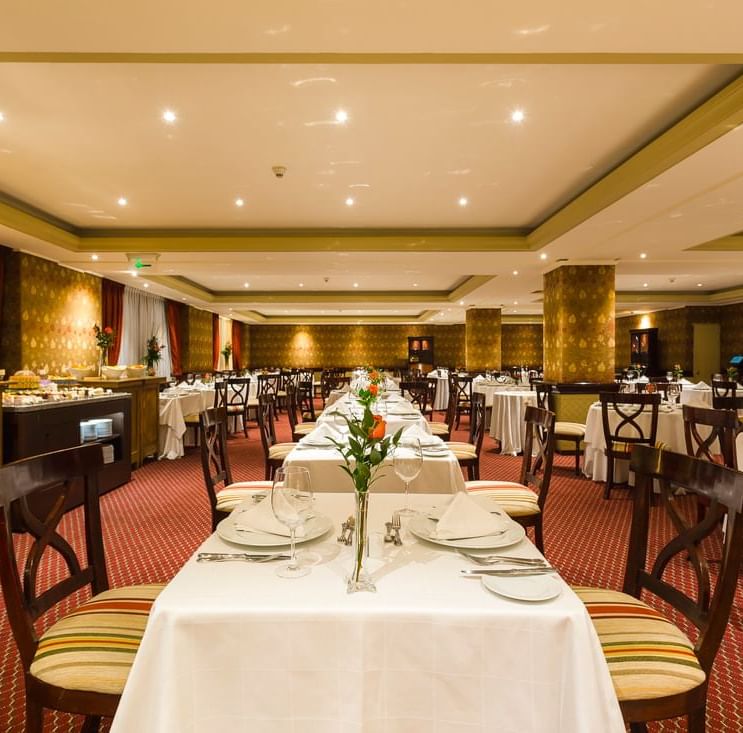 Impeccable Service
Tradition distinguishes the Plaza San Francisco Hotel as one of the most outstanding hotels in downtown Santiago. A classic décor along with excellent service and friendly staff members all come together to ensure a unique and unforgettable experience in the heart of Santiago.

Free Wi-Fi

Breakfast Buffet Included

Rooms with VIP Services

Spa & Wellness Center

Tempered Swimming Pool

Award Winning Cuisine

Av. LibertadorBernardo O'Higgins 816
Santiago City Centre, Santiago, ​Chile